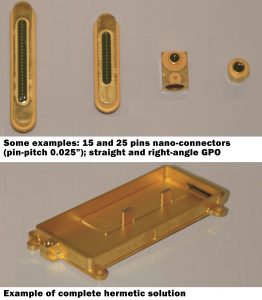 Based on Electrovac's 60 years experience in designing and manufacturing GMTS products, the hermetic connectors product-line has been recently created with the purpose to meet the Customers' requests for customized connector solutions concerning Military, Aerospace, Telecom, Automotive, and Medical markets.
The development of the hermetic connector solutions is usually done together with the designs of the connector's housings so that a complete hermetic solution, package + brazed connector, can be also provided.
We know the severe quality requirements of the hermetic connectors and, for this reason, the entire manufacturing process, from glass forming to the final testing, is within the company. All the steps are under our control and it also means flexibility, customizable offer and prompt reaction in case of design changes.
Our hermetic connector offer comes from DC to 50GHz and, currently, our connectors are assembled and in use with units/products for Military, Aerospace, Telecom, and Automotive application; for those markets the qualification has been performed by the Customers directly.